This time of year, two things invariably come up:  taxes and food.  For the tax part of things, Proposition 19 took effect this year; the California Association of Realtors put together a short summary of the changes, you can find it here.
Now for the food.  For the longest time I could not cook salmon without ruining it, no matter how hard I tried.  That is, until I came across an easy recipe that makes it look like this (recipe below):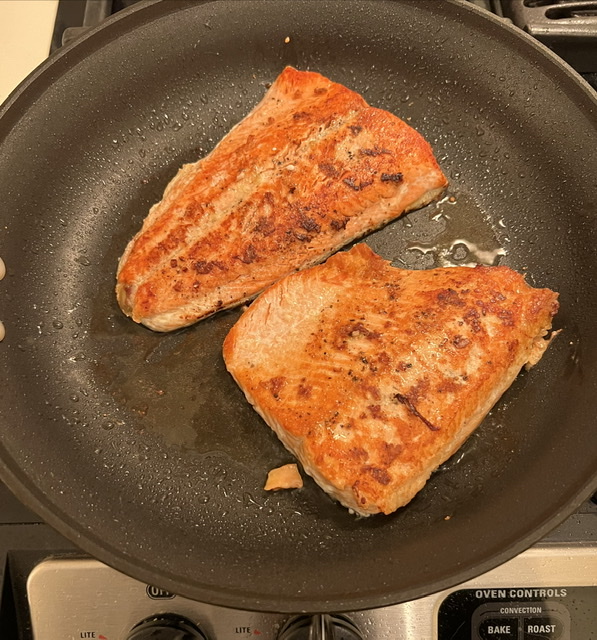 Parmesan and Garlic Crusted Salmon:
1/4 pound of fresh salmon per person (the above was more like 1.2 pounds of salmon for four people)
1 medium clove of fresh garlic for each portion, pressed with a garlic press.  You can use less, but we love garlic in this family.
Grated parmesan cheese of your choice (I find the powdered kind works best here but any grated parm cheese will work); I usually just eyeball the portion, I have no idea how much I'm using.
Kosher coarse salt
Freshly ground black pepper
Olive oil
***
Heat enough olive oil in a nonstick pan so that the salmon can be coated on the bottom of the pan by swirling it around.
Spread the fresh garlic on the meat side of the salmon evenly across each filet.  (I cook the filets whole and then portion them out when they're done; while that doesn't get the sides "restaurant pretty" it does make it more forgiving about keeping the salmon from getting too dry).
Season the meat side of the salmon with kosher salt and ground pepper to taste.  As always with kosher salt, you have to be careful not to overdo it, but you don't have to skimp.  Sprinkle parmesan cheese to cover the filet with a thin layer of cheese.
Place fillets skin side up in the heated pan and sautee for 4 mins (or to your liking) without moving.  Gently turn the salmon over with a silicone spatula, cooking skin side down another 3-4 mins (or to your liking) without moving.  Serve immediately.  That's it!  I don't recommend using a lemon on the side in this recipe as it cuts the other flavors out.
For a side starch, I like any one of plain basmati rice, Near East rice pilaf, sliced russet potatoes roasted in olive oil (40 mins @ 425 in oven tossed with olive oil, kosher salt, granulated garlic, dried chopped onion, with parm cheese added for the last 15 mins), or a loaded baked potato. Veggie of your choice on the side.
Wishing you and your loved ones a very Happy New Year.